Main Sponsors

Grounds Maintenance Equipment For Professionals
Click here to visit Dennis Mowers or here to visit Dennis Mowers on Facebook
Click here to visit Sisis or here to visit Sisis on Facebook
Click here to visit Rigby Taylor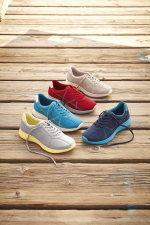 British comfort footwear manufacturer Hotter supports the Federation of Crown Green Bowls Merit. Inside every Hotter shoe are secret Comfort Concept(r) features that offer a luxurious treat for your feet. Call free on 0800 525 893 quoting PBABWA for their latest colour catalogue or click here here to go to their web site.
Safeguarding
We in The Federation are fully committed to the safeguarding and welfare of our youth, juniors and vulnerable adults.
This policy is in accordance within the guidelines laid down by CPSU and NSPCC. In light of the serious information that continues to come to the fore regarding allegations of abuse in other sports, we would advise anyone who has any concerns, historical or current, to contact their County or National Welfare Officers. These details can be found on the BCGBA website bcgba.co.uk or the current handbook. Alternatively on behalf of the Federation you can contact me in strict confidence and any information will be passed to the relevant authorities.
Tel 07860358283 or email dkay189@gmail.com or visit www.safeguardingbowls.org.
David
Federation Focus
Brian Holgate's Federation Focus.
Press Release 1711 Federation Focus July.
Press Release 1707 Federation Focus June.
Press Release 1704 Federation Focus April.
Press Release 1701 Federation Focus March.
Press Release 1617 60 plus Supreme Champions.
Press Release 1615 Federation Focus August.
Press Release 1610 Federation Focus July.
Press Release 1607 Federation Focus June.
Press Release 1604 Federation Focus May.
Press Release 1601 Federation National League April.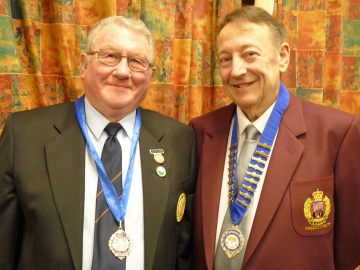 Phil Brown President Keith Andrews Deputy President BCGBA 2017.
Facebook link
Click here.
Latest News
<! AGM>
A G M 2017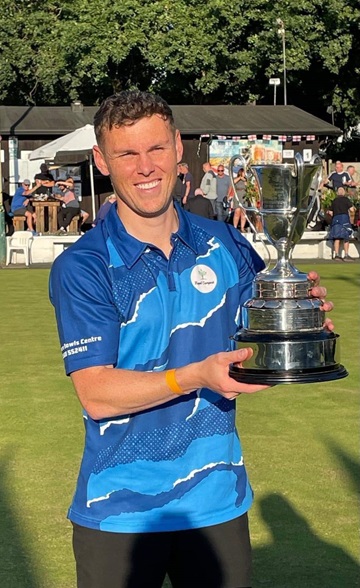 Will be held on 11th November 2017 and will be conducted by email as usual. Any notices of motion to be with the Secretary David Kay dkay189@gmail.com by the 28th October 2017. Agenda and statement of accounts will be sent out prior to the AGM.
<! President>
President 2017
Peter Hodgkinson has offered to continue his services for a further twelve months and a sincere thanks to him for his dedication to the Federation. He is a fitting figurehead to our organisation.
<! CHAMPION OF CHAMPIONS>
Champion of Champions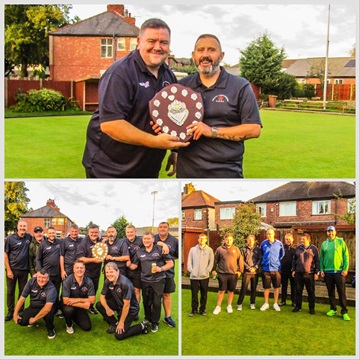 Champion of Champion winners were Colne Valley who beat Fylde B in the final at Kingston Social Club.
Colne Valley won their group at Halifax BC.
Colne Valley 16 pts, East Lancs 12 pts, Preston 10 pts, Airedale B 10 pts,
Fylde B won the group at Elland Cricket Club.
Fylde B 15 pts, Rochdale 15 pts, Barnsley 13 pts, Leeds B 5 pts.
Fylde B went to the final on count back to match with Rochdale which they won 5 3.
Many thanks to the officials and staff at Halifax BC Elland Cricket Club and Kingston Social for the use of their excellent facilities.
A great day enjoyed by everyone.
<! NATIONAL LEAGUE>
National League 2017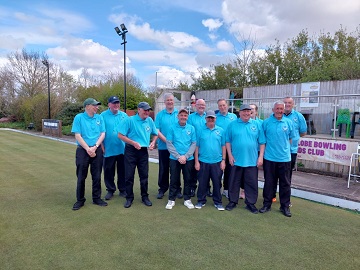 Warrington home team
This Year the National League was won on the last day of the season by Barnsley who took the title from Leeds A by 5 points.
Div 2 was won by Colne Valley who along with Wallasey have progressed to the top flight every year.
Div 3 strong division eventually won by Rochdale with Mid Cheshire runners up.
Div 4 East Lancs and Dudley are promoted who continue to progress up the League.
Div5 Likewise Bradford and the improved Leeds B go into Div 4.
The two teams promoted from divs 6 are Airedale B and Fylde B.
League Merit Winner is Matt Gilmore closely followed by Marc Wilson.
Full results are on the link to MB Bowls results.
Click here to visit Results page.
<! FEDERATION YOUTH AND JUNIOR TOURNAMENT 2017>
Federation Youth and Junior Tournament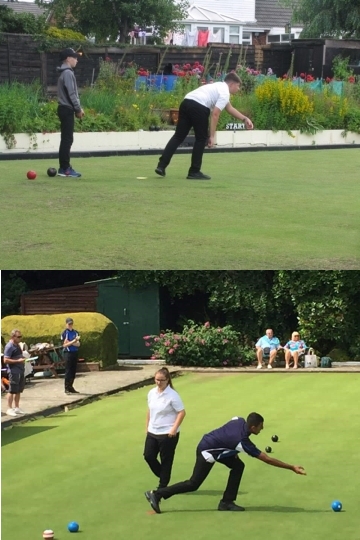 Our decision to try this format has shown what a real success this has been and our decision to hold it again next year in Leyland together with the same funding is the right one.
We had 63 players 13 & under playing this year.
Also 57 players 14-16 and 42 players 17-20.
In the Merits !7-20 Fergal Wright from Ormskirk came top with D Teale Heavy Woollens second 41 Players took part in 221 Games. 162 players in total.
Many thanks to all involved and especially Ken Howarth our Youth and Junior Officer, also to Roy Atkinson and his colleagues at the venues used.
Full results and Merit Winners can be found in the results section.
<! TEAM KNOCKOUT 2017>
Team Knockout 2017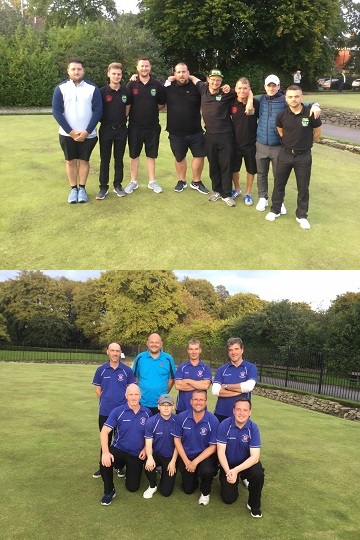 This year's winners were the favourites Colne Valley beating Barnsley in the final 6 2 at a rain soaked Meltham.
Halifax and Middleton shared the Suplementary final as the other green was Flooded.
Many thanks to Andrew Wadsworth and his colleagues and to the Clubs who hosted the event.
Hospitality was second to none.
<! OVER 55's MERIT 2017>
Over 55's Merit 2017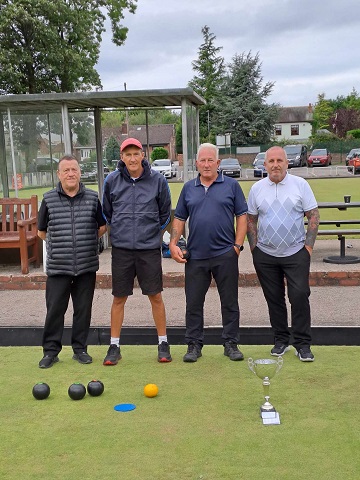 Played at the excellent venue Garswood Hall a quality field of 46 entrants took part on their challenging greens. Eventual winner was Phil Biram from Middleton who beat Mark Myles representing Ormskirk 21 17. In the semi finals Phil beat Paul Culley Sth Lands 21 17 and Mark beat Rita Manning from Southport 21 11.more results under Senior Merit.
<! INDIVIDUAL MERIT 2017>
Individual Merit 2017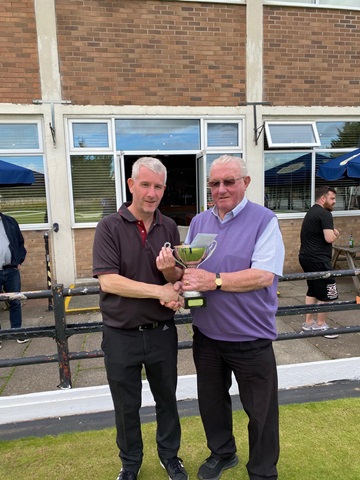 Individual Merit was won by George Curran Liv/St Helens who beat Clive Chapman from Bury 21 16.
Once again very positive feedback at the excellent venue of Garswood Hall.
Thanks to Nick Shaw and his colleagues for their hospitality.
Also thanks to all the players who attended and made it such a brilliant day again.
Next year we are at Fox Lane Sports on 30th September.
<! FEDERATION v CIVIL SERVICE 2017>
Federation v Civil Service 2017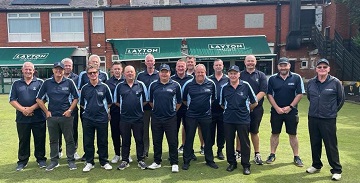 Our annual match played at Prestwich Cricket Club on 21st July was another great success. The Civil Service team played really well and in an exciting last game Jim Kenny beat Mark Prosser 21-18 to give the Civil Service the win for a second year by 1 chalk. Full results are in results section. Our thanks to The officials and staff at the club for use of their excellent facilities and to the caterer for the buffet. Next year the match will be played at Fox Lane date to be confirmed.
<! FEDERATION LADIES (Ormskirk) v CSSC LADIES 2016>
Federation Ladies (Ormskirk) v CSSC Ladies 2016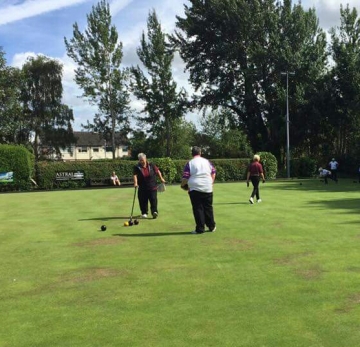 Played this year at the Aughton Institute Ormskirk the Federation Ladies (Ormskirk Ladies) beat the Civil Service Ladies in their Annual match by 220 pts to 187. Notable performances were Sharon Jenkins 21-3, Phyllis Greenwood 21-8, Tina Walmersley 21-9 for the Federation, Joyce Clarke for the Civil Service 21-9. Click here for results. Many thanks to Jackie Butterworth and her team for their hospitality and a special thanks to Chris Ellis for the Federation despite being out of action.

<! CONTACTS>

Contacts

I would be grateful if you would check your contact details and let me know if there are any changes.

Once again any contributions to this site would be appreciated.

Best Regards

David Kay

<! END OF CONTENT >